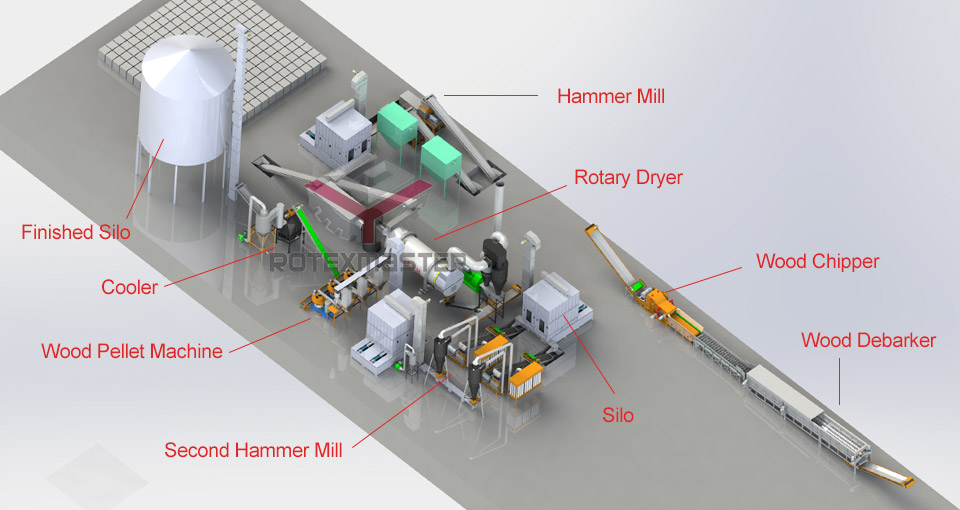 The process flow of producing biomass pellet fuel needs to be customized according to the specific situation of each customer, and the required equipment needs to be configured according to the specific situation. Thousands of people have thousands of samples, and no one is exactly the same. This is also the characteristic of this industry.
The reason for this situation is that the raw materials of each customer are different, and the processing technology is naturally different. Of course, there are rules to follow, and Rotexmaster will briefly explain as below.
The production of biomass pellets requires that the moisture content of raw materials be controlled at about 12-15%, and the size be controlled below 10mm. If this standard cannot be reached, corresponding equipment needs to be used to process it to this standard.
Relatively Complete Biomass Wood Pellet Production Line Process
Chipping—crushing—drying—pelleting—cooling—packaging
The corresponding equipment is
Crusher/Wood Chipper—Hammer Mill—Dryer—Hammer Mill—Wood Pellet Machine—Cooler—Ton Bag Scale/Packing Machine
And some of its auxiliary equipment, such as belt conveyor, bucket elevator, cyclone, dust collector, fan blower, silo and so on.
Simple Biomass Wood Pellet Production Line Process
Pelleting - Cooling - Packaging
Equipment used, belt conveyor, wood pellet machine, cooling machine, packaging machine
If your raw materials are waste wood, corn stalks, and fresh branches, then you need to use the complicated process in the front. If your raw materials are dry sawdust, rice husk, etc., then the simple process in the back can fully satisfy.
Therefore, raw materials are the key factors of the whole biomass wood pellet production line process.