What is Rotary Dryer?
The rotary dryer adopts low-speed rotation, bending plate hammering to disperse the material; according to the different characteristics of the material, different types of lifting plates and anti-sticking measures are adopted, so that the high-temperature airflow is mixed with the material, achieving a uniform drying effect. The biomass rotary dryer is mainly composed of a barrel device, front and rear supporting roller devices, feeding and discharging devices, transmission devices, gear covers and other components. Mainly used for the drying various biomass materials, suitable for dye plants, fertilizer plants, chemical plants, pharmaceutical plants and other manufacturers.
Technical Parameter
Model
Power(kw)
Evaporation Capacity(t/h)
Inner Temperature
Outlet Temperature
YGHGφ1.2*12*1
5.5+15+2.2+1.5
0.3-0.6
300-500℃
90-100℃
YGHGφ1.5*12*1
11+18.5+3+2.2
0.47-0.91
YGHGφ1.5*18*1
11+30+3+2.2
0.7-1.34
YGHGφ1.8*18*1
18.5+37+3+2.2
1-1.9
YGHGφ1.8*24*1
18.5+55+3+2.2
1.35-2.44
YGHGφ2.0*18*1
18.5+55+5.5+2.2
1.25-2.3
YGHGφ2.0*24*1
18.5+75+5.5+2.2
1.67-2.9
YGHGφ2.2*18*1
22+55+5.5+2.2
1.51-2.68
YGHGφ2.2*24*1
22+90+5.5+2.2
2.02-3.36
YGHGφ2.5*18*1
22+90+3+3
1.96-3.32
YGHGφ2.5*24*1
22+90+5.5+3
2.61-4.16
YGHGφ2.8*18*1
22+90+5.5+3
2.45-4
YGHGφ2.8*24*1
22+132+5.5+3
3.27-5
YGHGφ3.0*18*1
30+110+5.5+3
2.82-4.39
YGHGφ3.0*24*1
30+160+5.5+3
3.76-5.6
Advantages
1. High thermal efficiency. high contact surface between the material and hot air.
2. Low maintenance cost
3. The design of the lifting plate in the cylinder is multi-angle,suitable for various materials.
4. Integral spiral rigid structure, won't deform under long-term high temperature
5. Compliance with various dust and emission regulations
6. Intelligent PLC control system, saving labor
Application
Rotary dryer applies for a variety of materials, such as wood chips, wood shavings, sawdust, straw, grass, alfalfa, rice husk, bagasse, efb fiber etc.
Schematic Diagram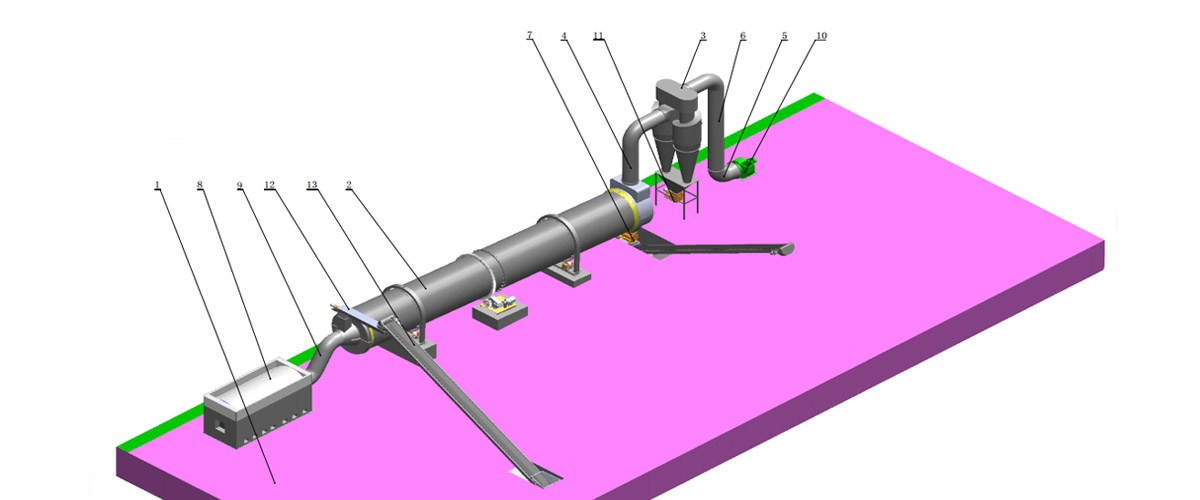 1. Rotary Dryer Base 2. Rotary Dryer 3. Cyclone 4. Pipe 5. Fan Blower Dialectal Switching 6. Pipe 7. Air Lock 8. Stove
9. Connecting Pipe between stove and dryer 10. Fan Blower 11. Air Lock 12. U-shaped Conveyor 13. Belt Conveyor
Q: Are you manufacturer or trading company?

A: RotexMaster is leading pellet machinery manufacturer in China, also with marketing department and R&D center.

Q: I am newer to biomass industry, how to design suitable pellet plant?

A: Do not worry about that. We already helped many beginners. We can customize 1-30t/h project according to every customer's needs. Also we can provide turnkey service.

Q: How to prepare for setting up a wood pellet production line?

A: Factory to set up pellet line, store raw material and pellets
Abundant raw material
Staff needed for operating the pellet line
Transformer to offer enough power for pellet line

Q: How can you guarantee the after-sales service?

A: RotexMaster has professional After-sales service system. Onsite installation, debugging, training, maintenance are available worldwide by 20 years experienced and skillful engineers. Also spare parts can be available timely due to oversea warehouses.

Q: Are there some machines in my area I can observe?

A: RotexMaster has exported to more than 89 countries and regions, if there are machines nearby you, we can contact the customer to arrange a visit for you.

Q: What type of raw materials can be pelletized by RotexMaster pellet machine?

A: Waste wood materials, forest waste, agricultural straw, rice husk, peanut shells, bamboo, sugarcane bagasse, alfalfa, grass, palm fiber, coffee husk, fertilizer etc.

Q: How to confirm the compression ratio of mould for my raw material?

A: Our experienced engineers are familiar with many regular raw material. If your raw material is special, do not worry, we can provide free raw material test. You just need to send your raw material to us, we will find the best way to make pellets with it.

Q: What is the main process for making biomass pellets?

A: Coarse Crushing Section(wood splitter, wood chipper)—Crushing Section—Drying Section—Pelletizing Section—Cooling Section—Packing Section—Controlling Section

Q: What is your work flow if we order Rotexmaster equipment?

A: Inquiry—Customize Plant & Quotation—Communication—Order Confirm & Payment Received—Production—Regular Production Tracing—Quality Inspection for Every Product—Book Vessel & Arrange Delivery—Documents Post/Telex Release—Customs Clearance—Arrange Delivery to Clients` Site—Discharge Goods—Arrange Installation & Commissioning & Training
For all inquiries fill in the form below to send us a brief message,and we will get back to you as soon as possible.